---
Friday, June 11, 2021
June 11, 2021 - Show Moves to Dalles House Lounge & Restaurant 6:30
June 11, 2021 - Show Moves to Dalles House Lounge & Restaurant 6:30 come see us there for a triple header - Never Dead Beat Poets, The Swongos & The Hounds!!! Free and drink specials.
3:02 pm edt
---
Click to Our Facebook Page and to Like us!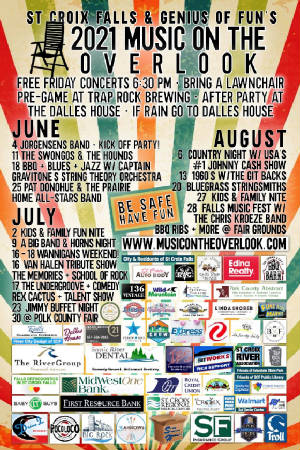 NOTICE!!! June 11, 2021 - Show Moves to Dalles House Lounge & Restaurant 6:30 come see us there for a triple header - Never Dead Beat Poets, The Swongos & The Hounds!!! Free and drink specials.
The Heat, and threat of rain and lighting has prompted this relocation. Thank you for your understanding.
2021 Schedule - All Concerts 6:30 pm to 8 pm (except Wannigan Days Festival July 16-18 with varried times all weekend)
June 4 The Jorgensens Band featuring Kurt & Brianna Jorgensen
June 11 The Swongos & The Hounds - St Croix Valley Favorites
June 18 BBQ, Blues & Jazz w/ Captain Gravitone
June 25 Pat Donohue & The Prairie Home All Star Band (NPR, MPR)
July 2 Kids & Family Night
July 9 A Big Band & Horns Night with The Lavalle Big Band
July 16 Wannigan Days with A Tribute Show to VAN HALEN, The Memories & The School of Rock
July 17 Wannigan Days with The Undergroove Band, Comedy, Rex Cactus & More
July 23 Tribute to Jimmy Buffet & Island Music with Pirates, Guitars & Beachfront Bars
July 30 We will be working the entertainment stages at The Polk County Fair - join us!
Aug 6 Country Night with USA's #1 Johnny Cash Tribute Show
Aug 13 1960's Rock n Roll with The GitBacks!
Aug 20 Bluegrass Night with The StringSmiths of Cumberland
Aug 27 Kids & Family Night
Aug 28 Falls Music Fest featuring Chris Kroeze at Polk County Fairgrounds
GREAT MUSIC AND SAFE DISTANCING AT MUSIC ON THE OVERLOOK SUMMER CONCERT SERIES
SPREAD OUT, BE SAFE, ENJOY MUSIC OUTDOORS IS THE 2020 THEME AT MOTO
M
usic On The Overlook
happens Fridays at 6:30 pm at the scenic Overlook Park Riverview Stage in downtown St Croix Falls, WI.
"Once again we are happy to invite you to a very special concert series in one of the most beautiful spots around," says Woody McBride, MOTO coordinator. "Bring your lawn chair, some snacks, then spread out and relax to a variety of great music."
Organizers have worked with input from three city governments, the Polk County Health Department and area research to create a COV19 safety plan for the concerts. Similar concert series' in Barron, WI, Balsam Lake, W?WI and Amery, WI have also moved forward with the same strategy.
Large safety information signs and a greeter will be onsite to encourage people to spread out, take a free mask or sanitizer wipe if they need and please stay home if sick or you think you are at risk.
2021 Sponsors are: Royal Credit Union, First Resource Bank, Midwest One Bank, Johnson Motors, The
City of St Croix Falls, The Drive In, The Dalles House, Falls Chamber of Commerce, Easy IT guysWalmart SCF, SF Insurance, St Croix Auto Body, SCF Downtown Shops, Pins N Needles, Shipping & Handling, SCF Senior Center, Alliance Church of The Valley, Polk County Abstract, The City and Residents of St Croix Falls, Edina Realty, Sir Smoke A Lots BBQ, River Valley Graphics, 136 Vintage, Wild Mountain, Festival Theatre, Johnson Motors, Valley Sweets, Taylors Falls Scenic Boat Tours, Linda Shober Marketing & Design, Fine Acres Market, Grow St Croix Valley Splash Pad, Fireworks Forever, Express Employment Professionals, Xcel Energy, La Jewelry Lady, The Drive In, Big Rock Creek, Saphire Real Estate, Brick Fire Street Kitchen Food Truck, The River Group Financial Advisors, River City Design of SCF, Dalles House Restaurant, St Croix Falls Senior Center, Dalles House Coffee Shop, Amanda McBride Realtor with Century 21, Scenic River Dental (formerly Steven L. McCormack Dentistry), Interactive Business Solutions LLC, The Bitworks, St Croix River Association, Trap Rock Brewing, Friends Of Interstate State Park, Friends of SCF Public Library, Falls Orthodontics, Walmart, Polk County Fair Society, SCF Buy Local, St Croix Regional Medical Center, 3 Arrows, TrollHaugen, SCF Civic Auditorium, Poco Loco.
The full 2021 schedule for SCF events is as follows. Official Pre-event Party at Trap Rock Brewing and official After Party at Dalles House. If Rain we move to The Dalles House - check website and facebook for that info. www.musicontheoverlook.com and www.wannigandays.com
*** REMEMBER: IF RAIN ALL SHOWS GO TO THE DALLES HOUSE TAVERN STAGE - 720 S VINCENT STREET IN ST CROIX FALLS, WI 54024 (CORNER OF HWY 8 AND HWY 35)